Welcome to SculptureTour Salina
2013 Block Party!
Come One, Come ALL! It's a block party to celebrate the 2013 SculptureTour Salina opening day Saturday May 18th.
Schedule of Events
3:00
Isis Shrine Highlanders on Campbell Plaza
Stepz Dance Studio at Walnut/Santa Fe
3:15
Jury Award Announcements
3:30
Flying Debris
3:40
Swedish Folk Dancers at Iron/Santa Fe
4:15
The Spicer Girls
4:30
Kanza Fencing Club
5:00
Dru Davis
Spend the afternoon sampling wonderful and tasty food from seven locally-owned downtown restaurants during the Block Party! Tickets available for $15 at Ad Astra Books and Coffee and Salina Running Company!
2013 Sculpture Tour Salina Symposium
Artists Creating Art in Downtown Salina
SculptureTour Salina (STS) is pleased to announce the 2013 Symposium May 13-16 under the direction of Conrad Snider, ceramic artist from Newton Kansas.
The STS Symposium will be free and open to the observing public from 3:30-4:30pm and 7:30- 8:30pm in the ceramic studio in the basement of Memorial Hall.
Click here for a flyer
No registration required for the observation hours.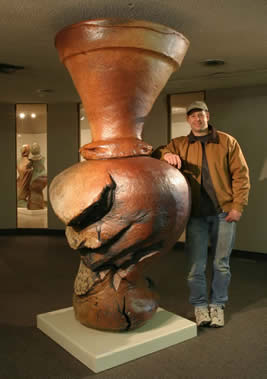 About the Artist: Conrad is a 1985 graduate of the Kansas City Art Institute and worked as primary assistant to Jun Kaneko for five years, completing projects in California, The Netherlands, and Japan. Since 1997, Conrad has been a full-time artist creating large-scale ceramic sculpture at his Newton, KS, studio/home in a converted grain elevator. His work is in private and corporate collections nationwide. He has numerous public art commissions including Nomar International Market, Botanica Children's Garden and Evergreen Park Library, Wichita, KS; Public Safety Building, Salina, KS; Bethel College, Newton High School and Blue Sky projects, Newton, KS; Dyck Arboretum, Hesston, KS.
Artist Statement: "My work is all large scale and ranges from clay vessels, both thrown on the potter's wheel and hand built, to figurative pieces and hand-pounded tile murals. Each of these aspects is important to me and feeds a different part of my personality. When I work on a piece I try to let the clay speak, sharing its natural behaviors, sensuality, visual strength, and power. I want each piece to have its own individual presence."
The process from wet clay to a finished piece takes 6 months to a year, ending with the final glaze firing in a gas reduction kiln to 2300 degrees Fahrenheit. Some pieces will be fired multiple times to enhance the glazed surfaces and textures. The surfaces are equally important to the form for the overall effect of the piece. High fired clay is impervious to fingerprints, water, and paints, which allows tactile exploration to be as much a part of the viewers' experience as visual interpretation. These same attributes also make clay ideal for public art installations.
Area artists and students who want to create ceramic sculptures with Mr. Snider should email sculpturetoursalina@gmail.com. Up to 14 local/area artists will be selected to participate in this hands on symposium to create outdoor sculptures to become part of the SculptureTour Salina exhibition.
If you would like to purchase a sculpture or contribute to SculptureTour Salina, please email info@salinakansas.org or call the Salina Area Chamber of Commerce at 785-827-9301.